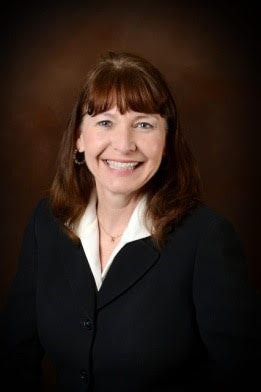 Ms. Riffel was born in Fairview, Oklahoma. She was admitted to the Oklahoma Bar Association in 1992. She attended Oklahoma State University and received a Bachelor of Science in Business Administration/Business Education in May 1989. Ms. Riffel later attended Oklahoma City University were she earned her law degree in May 1992 graduating cum laude. While at Oklahoma City University school of law, she was on the Dean's Honor Roll, was a Hatton Sumners scholar, Law Review staff editor, Phi Delta Phi treasurer, Merit Scholars President and Treasurer, and was active in the American Inn of Courts. She also received an Am Jur (highest grade) for Land Use. She is currently a member of the Oklahoma Bar Association, Garfield County Bar Association, and is admitted to practice before all Oklahoma Courts, the Western, Eastern, and Northern Federal District Courts, and the Tenth Circuit.
Ms. Riffel attended kindergarten through high school at Fairview, Oklahoma and graduated salutatorian from Fairview High School in May 1985. She was very active in school, community, and church activities while in Fairview.
During college at Oklahoma State University, Ms. Riffel worked as a summer intern for the Honorable James Wilkinson, Associate District Judge and United States Senator Don Nickles in 1988. She later worked as a case clerk for the Oklahoma City law firm of McKinney, Stringer, and Webster in 1988. She began law school in August 1989 and in January of 1990 she began working as a legal intern for the Honorable Yvonne Kauger, Oklahoma Supreme Court Justice. Also in 1990, she worked as a research assistant to Professors Richard Coulson and Michael Gibson at the OCU School of Law. In 1991, Ms. Riffel earned an intern's license and began practicing at the Oklahoma City law firm of Looney, Nichols, Johnson and Hayes were she stayed as an associate attorney after graduating from law school until she moved to Enid in March 1995. She began as an associate attorney for Gungoll, Jackson, Collins & Box, P.C. in 1995 but joined the firm of Elliott, Enabnit, Newby, and Ezzell as head of litigation in April 1999. She was promoted to a managing member of the firm in 2001 with the firm name changing to Elliott, Enabnit, Newby, Ezzell, Overstreet Overstreet, Riffel, & Riffel P.L.L.C. where she continued as head of litigation. She is now a managing member of the law firm of Riffel Law Firm, P.L.L.C.
Ms. Riffel is a past member of the Enid Rotary Club and AMBUCS where she served on the Board of Directors.
Practice areas include trial litigation, including but not limited to, personal injury, products liability, insurance defense, contract disputes, bank litigation, and family law.